In case you haven't "heard," National Geographic Channel has a seven-part series coming in November called Great Migrations (see trailer below). Affiliated with the television event are a number of educational opportunities you might want to investigate.
For example, there will virtual assembly on Wednesday, October 27 with cinematographer Andy Casagrande.  Your children can submit questions about his work and/or great white sharks. You need to hurry though, because question submissions are only open through October 14. Then sign up for the assembly. You might want to check the educator's page for photos, videos and worksheets, as well.
Accompanying the series is a children's book, Great Migrations:  Whales, Wildebeests, Butterflies, Elephants, and Other Amazing Animals on the Move by Elizabeth Carney.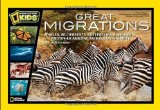 Great Migrations contains the dramatic, stunning photographs you have come to expect from National Geographic. Each animal is given a four page spread. The first two pages are amazing scenes in vibrant color. The second two pages are facts about the migrations those animals take that includes a map of the region where the animals occur (geography lesson).
I do have one caveat. The font on these informational pages jumps around drastically in color and size, even within a paragraph. While this is eye-catching from a design point of view, on the other hand it is a real challenge for beginning and struggling readers to follow.
If you are going to watch the series and want to have a reference on hand to emphasize points or delve a bit further into details, then this book could be a useful tool. It will be sure to get children interested in learning more.
There is also an adult book, Great Migrations by K. M. Kostyal, which I haven't seen yet.
This trailer to give you an idea what the series is like:
Isn't that stunning?
Note: Like in this trailer, I'm sure there will be some scenes of predators capturing prey, so it may not be suitable for young or highly-sensitive children.
More information:
Great Migrations: Whales, Wildebeests, Butterflies, Elephants, and Other Amazing Animals on the Move
Reading level: Ages 9-12
Hardcover: 48 pages
Publisher: National Geographic Children's Books (October 12, 2010)
Language: English
ISBN-10: 1426307004
ISBN-13: 978-1426307003
and
Great Migrations by K. M. Kostyal