All the new birds we have been seeing in our yard lately gave us the urge to record our observations. We grabbed some paper and colored pencils, and drew all the birds that we have listed.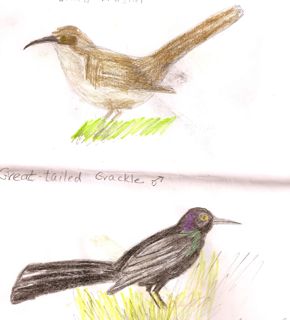 It was great fun and started an interest in developing a more formal nature journal. Although I am a scientist, I also love art and writing. Making a nature journal is a wonderful way to combine all three.
First I took a look at this book:
Drawn to Nature Through the Journals of Clare Walker Leslie by Clare Walker Leslie (see details below).
The book starts out with some simple and lovely ways to record the weather each day. This would be an easy and age-appropriate way for young children to get started creating a nature journal. Note: Weather observations would also tie in nicely with the upcoming book-based movie, "Cloudy with a Chance of Meatballs."
Then I found this video about natural journals from my alma mater, SUNY College of Environmental Sciences and Forestry. Hey, I remember having dendrology labs in that cemetery (dendrology is the study of trees).
The Handbook of Nature Study blog is a wonderful place to explore journals and nature. I love to visit this site when I have plenty of time to look around at all there is to offer (which is not often enough, I'm afraid). This blog completes the exercises laid out in Anna B. Comstock's classic Handbook of Nature Study.  Barb calls them "outdoor challenges." Barb also has the Harmony Art Mom blog where she shows the art side of natural journals. This video is from one of her lessons.
Making a Leaf Rubbing For a Nature Journal
Edit: The link is now broken. For a shorter reference, try The Nature Journal as a Tool for Learning.
The author of that article mentions the "Grinnell System," which is a more formal method of recording observations used by scientists. Edit: The link is broken. Although I was able to find a site that discusses the Grinnell System, I am still going to look into it a bit more. Have you ever heard of it and/or used it? Do you know any references?
Science, art and writing, all rolled into one. Nature journals have it all.
Some books to look for:
Drawn to Nature Through the Journals of Clare Walker Leslie
by Clare Walker Leslie
Keeping a Nature Journal: Discover a Whole New Way of Seeing the World Around You
by Clare Walker Leslie, Charles E. Roth
Illustrating Nature: Right-Brain Art in a Left-Brain World by Irene Brady
Disclosures: I am an affiliate for Amazon. If you click through the linked titles, covers, or ads and make a purchase, I will receive a small commission at no extra charge to you. Proceeds will be used to maintain this self-hosted blog.