What a better way to celebrate summer that a big, cold slice of watermelon? It turns out that you can do some fun "science" with a watermelon, too.
1. Exploding watermelons
If you bring a watermelon with you to the Arizona Science Center this weekend (for the 4th of July), they are offering to blow it up.
What causes the explosion? The write up accompanying the video suggests liquid nitrogen is involved.
With the obligatory "Do not try this at home" warning, here is another video from the Arizona Science Center that may clarify how the explosion is accomplished.
The Power of Liquid Nitrogen
2. For a less dramatic activity, grow a cube-shaped watermelon.
In a Seed of the Week post about watermelon, there was a photograph of a cube-shaped watermelon. Now there are instructions on how to grow one yourself at Instructables.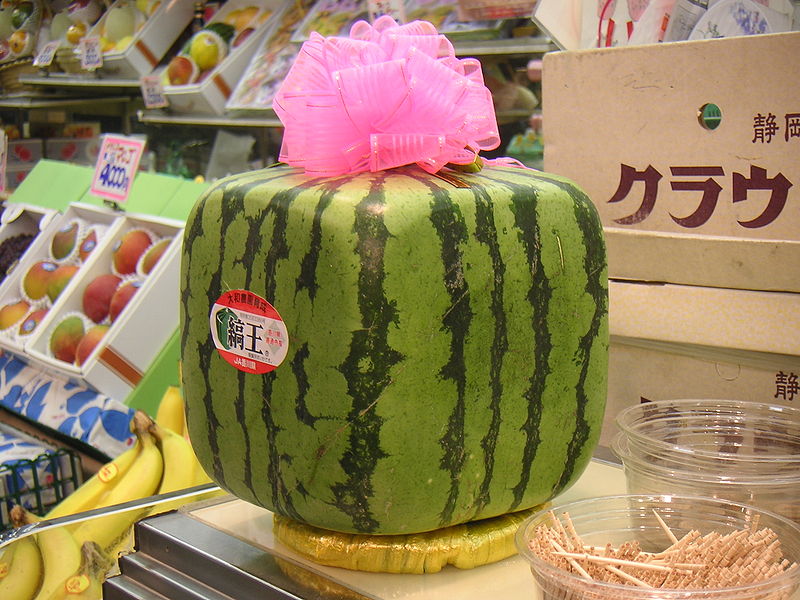 This photo was taken by Flickr user laughlin from Tokyo, Japan, also on Wikimedia.
3. Watermelon science at the National Watermelon Promotion Board
Under the Have a Watermelon Day Lesson Plans are links to downloadable science lessons as .pdf files (scroll down). You can make an edible model of a cell using a watermelon, learn about flowers of watermelon plants and how they are pollinated, and predict the number of seeds in a sample of watermelon.
You might also be interested in how to tell if a watermelon is ripe by  Thumping a Watermelon, as shared by WiredScience
or learn more about Watermelon Dropping Physics
Okay, I admit I enjoy seeing a watermelon go splat as much as the next person,
but it all does seem a bit wasteful. So why not take off the top, clean out the insides and use them to make a nice watermelon salad or watermelon slush. Use the leftover rind to see how gravity effects a watermelon.
The National Watermelon Promotion Board has some fabulous recipes.
How do you like to eat a watermelon?