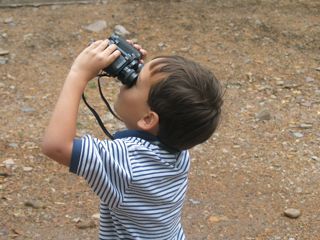 Don't you love it when you find a really great curriculum on-line for free? This weekend I found a terrific educational resource about birds. The author says it's for elementary grades, but I think it could definitely be used at higher grades as well, with some modifications.
The guide is called "Desert Birding in Arizona, with Focus on Urban Birds" by Doris Evans, illustrated by Doris Evans and Kim Duffek. Although the book definitely emphasizes desert birds, many of the topics covered could be applied anywhere. For example, the first section answers the question, "Why study birds?" It's relaxing, it gets us outdoors and birds can be observed year around. All those apply no matter where you are studying. The information in this curriculum guide would also be good to add to a unit on deserts.
The curriculum is available as a .pdf file. Go to the Arizona Fish and Wildlife, Focus:  WILD Arizona page, scroll all the way down to the bottom to "Additional Resources" and you'll find a link to the Desert Birding in Arizona .pdf file. While you are visiting, you can see all the other educational materials available.
Hope you find it useful. Don't forget to check page 35 for more information about rock doves (pigeons). 🙂