Butterfly gardening has become an incredibly popular activity. It is so easy, because all it requires is a little space and a few carefully chosen plants. It can be an extremely rewarding activity to carry out with children, who can experience hands-on science at its best while learning about topics like pollination, insect life cycles, and weather. We are so excited about it that we are going to devote a week of blog posts to butterfly gardening with children.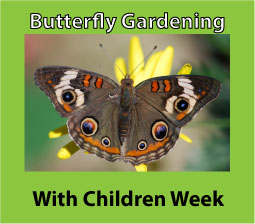 Our schedule:
Monday: The basics of butterfly gardening with children.
Tuesday: Figure out the five Mystery Seeds that will become great butterfly garden plants.
Edit:  The answers are now posted. See five great nectar plants for butterfly gardens.
Wednesday:  Identifying Butterflies for Beginners (with activity suggestions)
Thursday:  Pollination and butterflies (with activity suggestions)
Friday:  Adding trees to your butterfly garden.
We made it through the week!
Growing Resource List:
Butterfly and Moth Activities at Growing with Science website.
Butterfly Project has information about starting a butterfly garden.
Butterfly science activities here at Growing with Science blog
The North American Butterfly Association (NABA) has an extensive list of plants for butterfly gardens.
All about monarch butterflies and their migrations at Journey North
More about identifying butterflies at Gardens With Wings
See our list of fabulous children's books about butterflies and moths at Science Books for Kids.
Please join us and feel free to add links to your own posts, any questions, or ideas for topics about butterfly gardening with children in the comments.