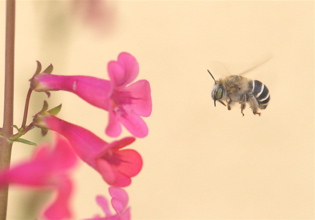 This morning I took a few minutes from my daily grind to take a few photographs. The garden is in full bloom and a loud buzzing attracted me to the side garden. Here is what I found. Do you know what it is?
This tiny bee is known as a digger bee. The flower it is visiting is a penstemon. Digger bees are fun to watch because they are cute and furry. This one was definitely aware of me. It came over and checked me out a couple of times. I wonder what I looked like to it?
If you are interested in bees, you should check out my lesson plans titled "Africanized Honey Bees on the Move." Some of the lessons have information about solitary bees such as this one.